This website uses cookies to ensure you get the best experience on this website. By agreeing to this notice or continuing to use the website you accept our use of cookies in accordance with our
Privacy Policy
GIVE THEM THE HAPPY, HEALTHY OFF-TRACK FUTURE THEY DESERVE
By supporting Fresh Start, you can help stop the abandonment and mistreatment of horses who can no longer earn a living on America's thoroughbred race tracks. Together with our racing industry partners, we're advocates for a comprehensive retirement plan that will provide lifetime care, rehabilitation, retraining and a future for every former thoroughbred race horse who needs someone to love them and a pasture they can call home.
Your Profile
---

Upload
Edit
Cancel
Account Details

Contact Info

Payment Info

Donation History

Current Monthly Support

Start Date
Type
Horse Name
Amount
View Past Donations

Date
Type
Horse/Descrip
Amount
Our Founder
---
<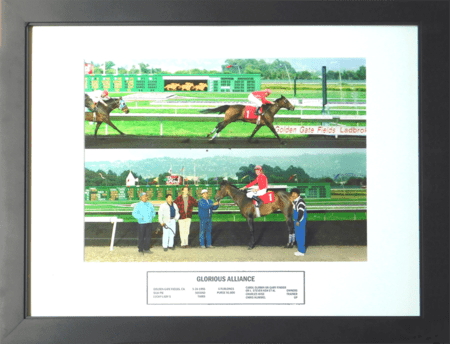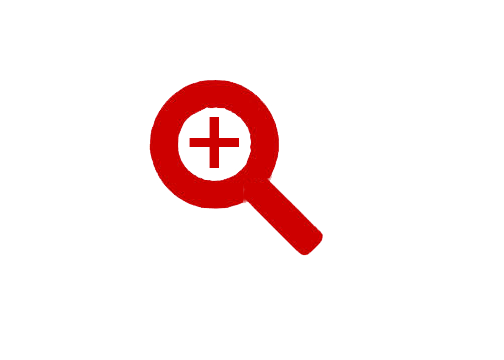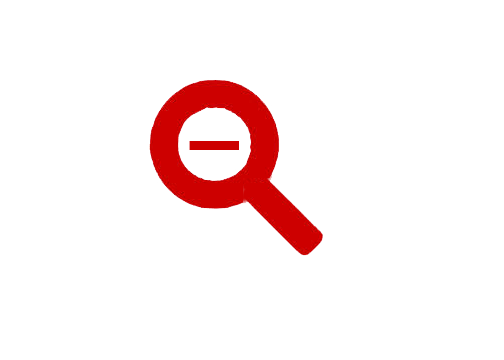 >
Glorious Alliance, finishing first at Golden Gate Fields, 5-26-95, 6 furlongs.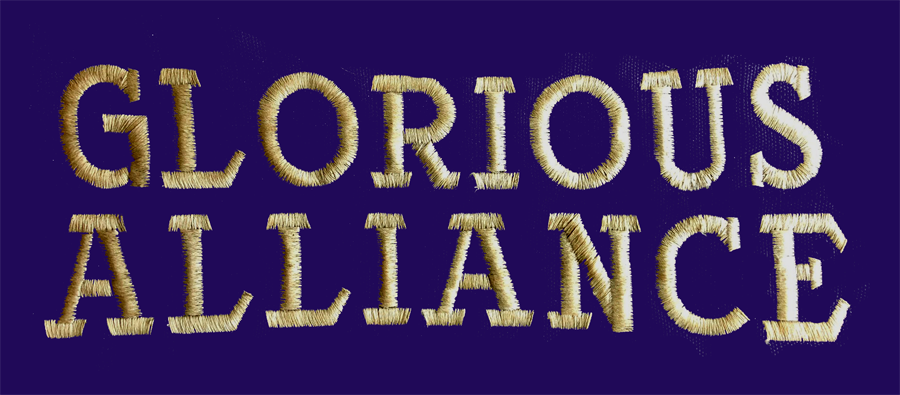 In our minds, Glorious Alliance was the finest thoroughbred horse we ever knew. Although she was of two minds about continuing to race, she was of only one mind in pursuing her long, glorious life, enjoying her beloved pastures and her adventures in jumper rings at AA horse shows throughout Southern California and Calgary, Canada. We gave her the finest care and the most love that any former thoroughbred race horse could hope to have and Glory reciprocated that love in countless ways for every day of her existence on this Earth.
Glory's good graces, passion for competition and limitless love of life set a standard that we felt we had to honor by founding Fresh Start as a tribute to her legacy. We know that Glory would have wanted all her thoroughbred cousins to enjoy the quality of life she did during her "retirement" years.
If you love the sport of racing, if you love thoroughbred horses, their history and inimitable spirit, we ask you to join us and our now Heavenly founder, Glorious Alliance, in what we have decided will be a lifelong effort to ensure that every off-the-track thoroughbred horse in need will receive a fully-funded retirement, rehabilitation and training program suited to their condition and talents.
Karen R. Graninger
Founder, Fresh Start Thoroughbred Lifecare, Inc.
Chairperson of the Board
President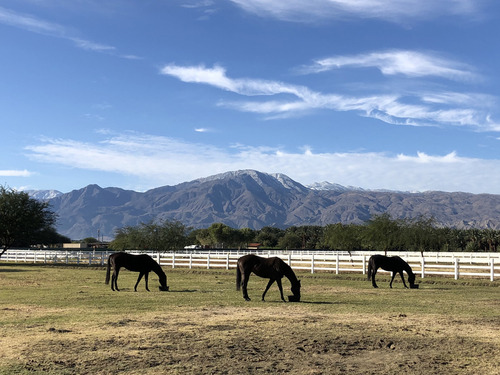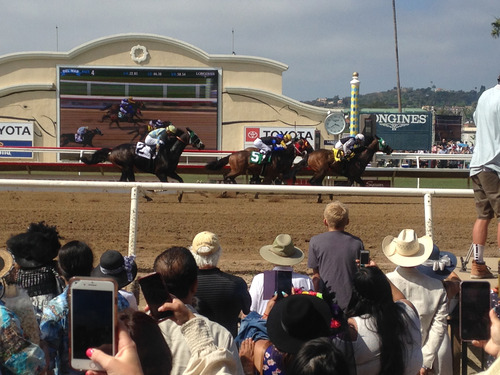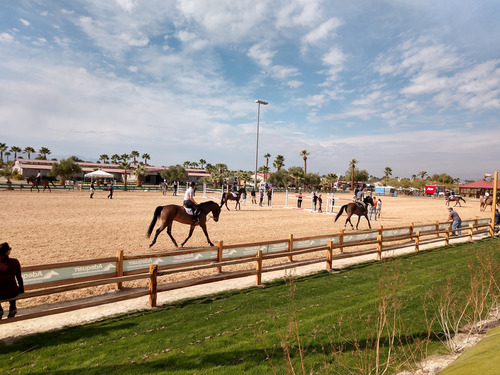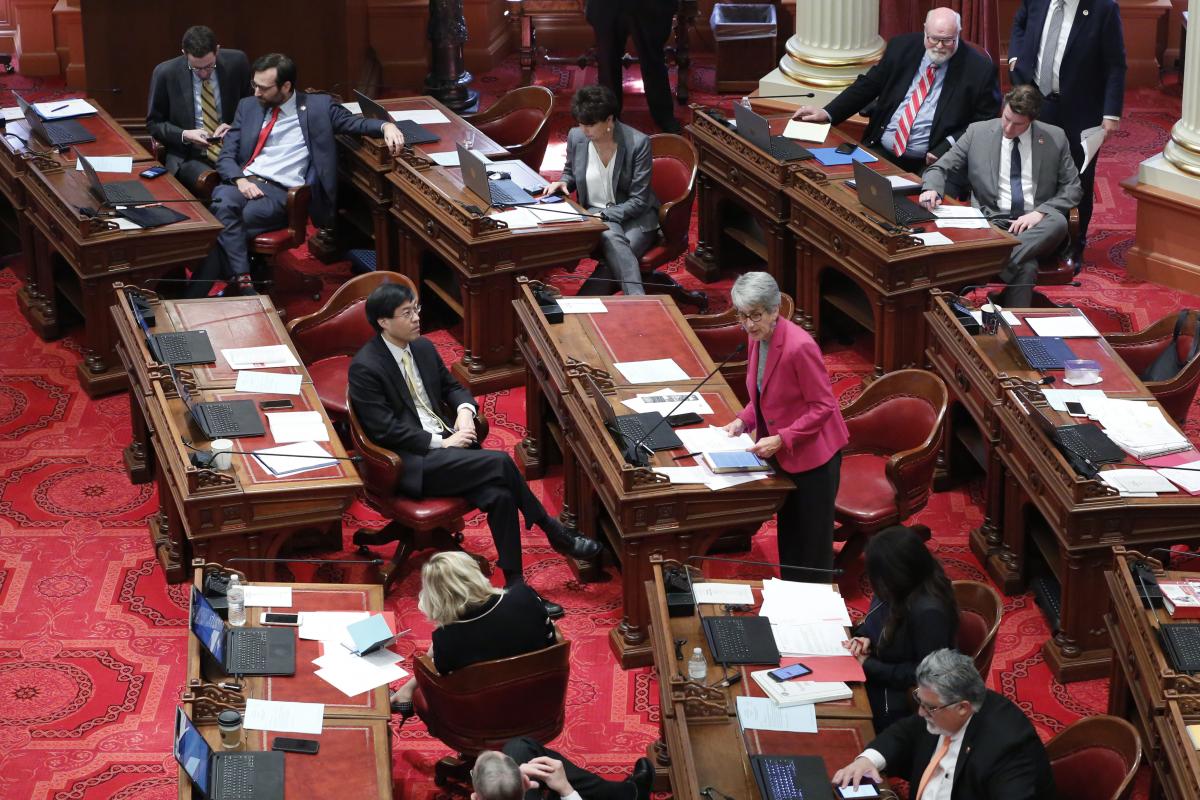 The mission of Fresh Start Thoroughbred Lifecare, Inc., an IRS 501(c)(3) Federal and California tax-exempt charity, is to ensure that every Jockey Club registered thoroughbred horse in the United States will receive retirement benefits that assure them of a life that respects their contribution to the sport of horse racing. It is important to emphasize that we formed this charity because we love the sport of thoroughbred horse racing and want to help assure its continued existence to the public forever and for no other purpose, apart from our love for the horses that make the sport possible in the first instance.
We believe the handicapping public, those who make the sport of horse racing possible, are a key constituency in achieving our goals. To that end, we developed a technology-based system that is incorporated into our website which allows bettors to directly contribute to the long-term care of the horses they bet on.
We developed a technology platform which allows everyone who shares a love for the sport and the horses that make it possible to pool their financial resources to support their retirement needs. It also allows donors to use social-media tools to vicariously participate in those horses' lives using the full range of text, audio, and video communications capabilities now possible on the internet.
We will offer pre-paid retirement annuities for retired thoroughbred horses, consistent with applicable State insurance regulation affecting charitable annuities and Federal Securities Laws, that afford former thoroughbred race horses a secure life in an appropriately accredited retirement facility anywhere in the country. In cooperation with qualified veterinarians, horsemen and horsewomen, we intend to develop and, most importantly, enforce standards of care that will ensure our horses enjoy happy, productive, and healthy lives.
To the extent they are physically capable, our programs will encourage and support the horses' retraining for a whole range of sport horse activities, including hunters, show jumping, dressage and eventing, with a physical presence at prominent shows in each discipline. An advisory board of world-class riders, trainers and owners will assist in transitioning capable retired race horses into their respective disciplines.
We intend to engage in grass-roots lobbying activities, consistent with and subject to limitations imposed by our Federal tax-exempt status, that will be targeted at State legislatures, State racing commissions, the United States Congress and the U.S. Jockey Club, to create an effective legal framework that makes funded retirement a mandatory component of the horse racing industry.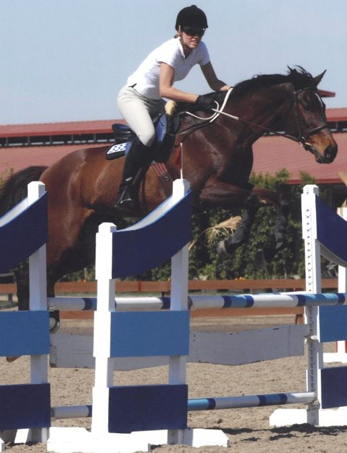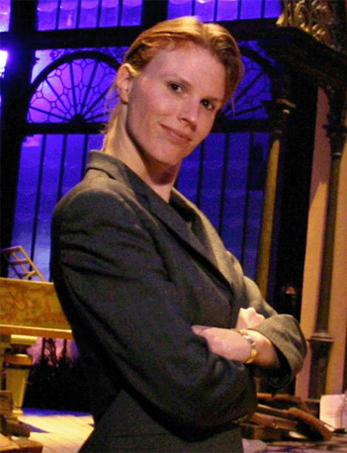 Karen R. Graninger
Chairperson of the Board, CEO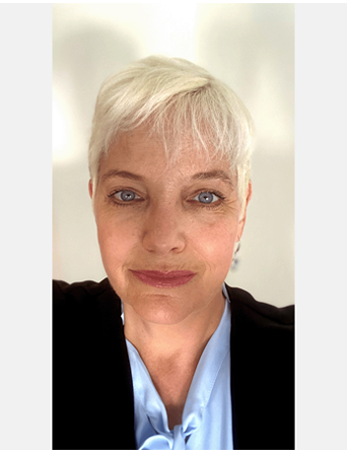 Mara Lambrecht
Director, Treasurer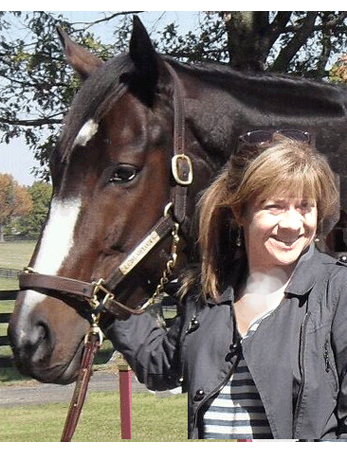 Veronica Berman
Director, Secretary
×
Born in Wiesbaden, Germany and raised in Munich, Mara's love for horses began as a young girl on vacation with her parents at an Austrian horse ranch. She spent several years helping out and learning the basics of horseback riding at a neighborhood stable. Returning to riding later in life, she took lessons at a stable at her then home in the former East Germany.
After moving to the US, Mara's love for horses continued and for the last few years, she has provided significant financial support to organizations trying to save wild horses. Since 2017, she has focused on helping to rehome racehorses retiring from the track.
Mara's professional career as a corporate communications executive has concentrated on the international semiconductor and electronics design automation industries, including positions with one of Germany's largest multi-national chip manufacturers. She later co-founded a Silicon Valley based software start up business and then founded and ran her own successful international corporate marketing agency. Mara currently manages North American field marketing activities for a leading electronics industry company, recently recognized as one of the top 100 Great Places to Work in the US by Fortune Magazine.
In addition to her continuing love for horses, Mara brings her proven international managerial and organizational skills to Fresh Start in her role as Treasurer. Mara lives with her husband, 3 dogs and 2 cats in South East Florida, commuting regularly to Silicon Valley in California where her employer is headquartered.
×
Veronica (Ronni) Berman has been riding since childhood when her grandfather bought her a pony. Those early days of riding bareback on her pony led to riding hunt seat and having her own horses. She learned to ride saddle seat after boarding her horses at a Morgan Horse breeding farm, sparking a love affair with the Morgan breed and her purchase of two Morgan horses - Merwin's Boom Town (aka Townie) and Gallant Colleen.
Ronni competed successfully as an amateur owner in the park saddle ranks with Townie and in driving ranks with Colleen. She and Townie competed in the first Grand National Morgan Horse Championships. Colleen went on to become a foundation broodmare for Kohler Farms and Townie became a well-loved pasture horse with a new family.
After earning her nursing degree, Ronni moved to Phoenix AZ and worked in a trauma center for several years before beginning her current career in the pharmaceutical industry, working for large pharma companies. She has two teen-aged boys and has been a lifelong horseracing fan.
After following the saga of Barbaro throughout his treatment at New Bolton, Ronni decided to learn about adopting an off-the-track thoroughbred. Her research took her to a woman in Georgia who worked with contacts at several tracks helping retiring thoroughbreds find new homes and careers off the track. One evening, she found her own boy listed at Philadelphia Park, now Parx. That horse, Dr. Kenny Winn, aka Kwinn, was adopted almost 14 years ago and will be 21 years old in January 2021.
A devoted fan of horseracing, Ronni has had the opportunity to visit several of her favorite racehorses, including the great Rachel Alexandra and California Chrome. Not every horse is lucky enough to have a soft landing and this is especially true for racehorses that can no longer succeed at the track. Ronni is honored to be part of Fresh Start's programs which are dedicated to giving these horses a new life.
×
Fresh Start's President and CEO, Karen Graninger, has been riding and caring for horses since the age of 8 at hunter-jumper barns in Alabama, New York, Virginia and Southern California. A graduate of Ithaca College with a degree in Cinema and Photography, she pursued a career in the Hollywood film industry, working for various directors, producers, executives and studios, including News Corporation, the then parent company of 20th Century Fox, where she worked for senior executives across the world.
Karen and her husband, Jeff Wales, a technology industry entrepreneur and consultant to Fresh Start, moved to La Quinta, CA in 2004 where Karen found her off-the-track Thoroughbred mare of a lifetime named Glorious Alliance ("Glory"). Karen competed with Glory in Southern CA AA jumper shows including the HITS Coachella Desert Circuit, Del Mar Showpark, Oaks Blenheim and in Canada at Calgary's Anderson Ranch with her trainer and coach, Marilyn Dawson-Dixon, one of Ireland's top Grand Prix riders.
Today, Karen is the "executive assistant" to her beloved mare, Glorious Alliance, now running free in a perennially green pasture in Heaven, whose Twitter account @GloriousAllianc has nearly 5700 daily followers in racing, eventing, jumping and polo throughout the world.
Karen is also the "executive assistant" to Smoothie, a sport horse and a great-great grandson of Seabiscuit, whom she and Glory rescued in December of 2017. Smoothie is now running free in the green pasture with Glory.
For the last 15 years, Karen has spent practically every day caring for thoroughbreds while becoming knowledgeable in equine massage and acupressure and, along with her husband Jeff, training and coaching thoroughbreds and other horses in correct ground manners, flat work and jumping to prepare them for a second career as sport horses.
Karen's interest in horse racing began when she first visited Saratoga at age 13 and has continued ever since. Her favorite horses include Phar Lap, Java Gold, Curlin, Mine That Bird, Dynaformer, Pioneer of the Nile, California Chrome and Beholder.
Karen founded Fresh Start in an effort to create a nationwide funded retirement and retraining program to ultimately provide every off-the-track thoroughbred horse in need with the same high-quality care and training that her horses have been fortunate enough to receive during their lifetimes.
Here's How You Can Help!
---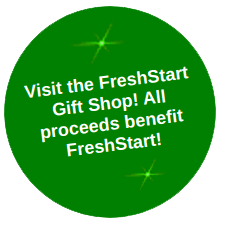 Please Donate Now!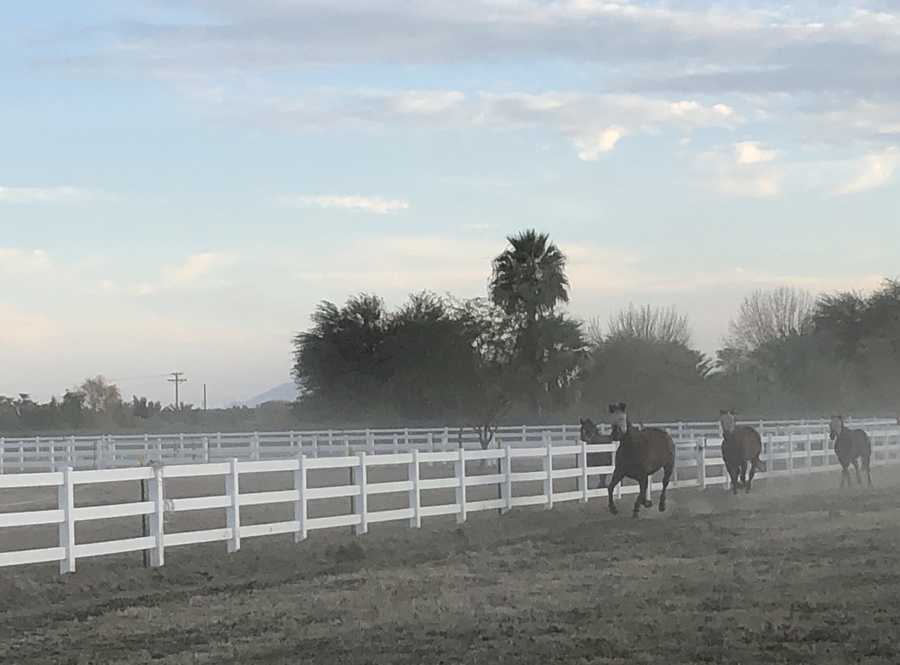 Support All Our Programs
Donate Now!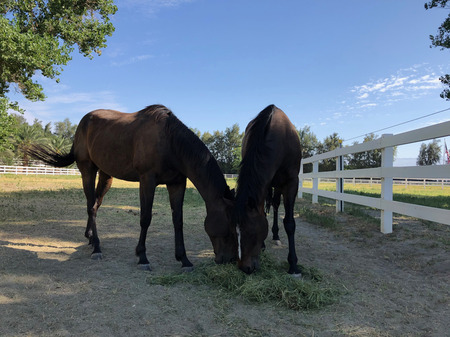 Support Our Horses
Donate Now!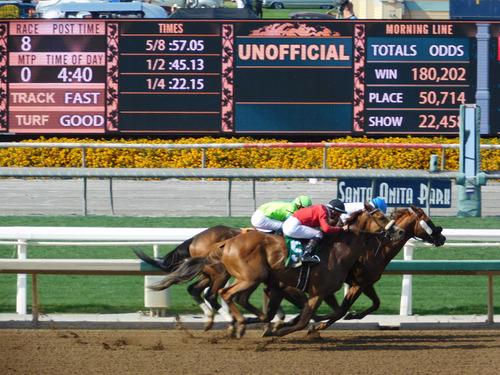 Handicapper? Donate a Bet!
Donate Now!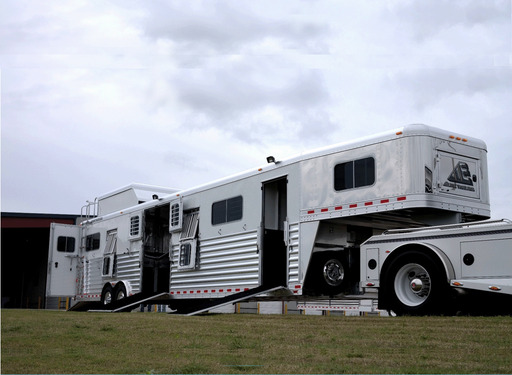 Special Projects
Donate Now!
Thank You for Your Support!
Return to Donation Options
Current Fundraising Projects!
---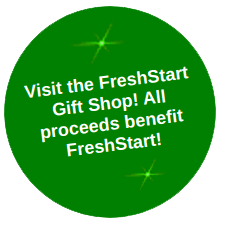 Please Donate Now!
Thank You for Your Support!
Return to Donation Options
Our Horses
---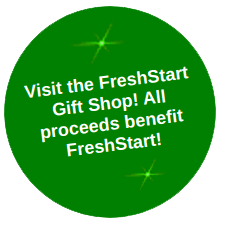 Return to Donation Options
When You Win, They All Win!
---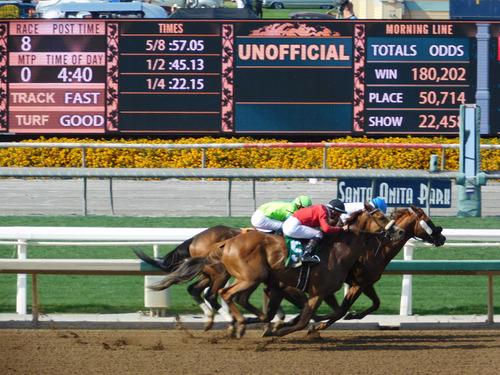 Love the game? Now you can share some of that love with the horses that make it all possible!
Fresh Start's exciting "When You Win, They All Win!" donate-a-bet system lets you donate your best picks to Fresh Start any time you wager. However you bet, via your favorite online ADW system or in person at the track or OTB, we accept them all!
Use your smart phone or tablet to upload a picture or screenshot of your matching betting slip and when you win, the horses win, too! Plus, you'll earn a tax-deduction for your generous charitable gift!
I'm in! Show me the details!

Fresh Start Thoroughbred Lifecare, Inc., a California Public Benefit Corporation, is a qualified IRC Section 501(c)(3) tax exempt charity.
California Registration CT0259324
Federal EIN 83-0

724

205
51-025 Avenida Mendoza - Ste 202
La Quinta CA 92253 USA
U.S. Toll Free 833.725.7349
Int'l +1 442.215.7132
© Fresh Start Thoroughbred Lifecare, Inc.
All U.S. and Foreign Rights Reserved
Send Us A Message!
Terms of Use
Privacy Policy
×
All transactions are governed by ourTerms of Use

Manage Ship Addresses
| | |
| --- | --- |
| | Use This Address for the Merchandise Item Shown Above |
| | Use This Address for All Merchandise Items in Cart |
| | |
One-Time Donations
Wish List Items
Monthly Donations
Gift Items
Select Card For Charges
Ship Exp
CA Tax
Total
Use Card






Use PayPal Venmo


×
Select Card to Pay or Add New Card
Select Default
Add New Card
Please Select A Ship Address for Each Gift Merchandise Item!